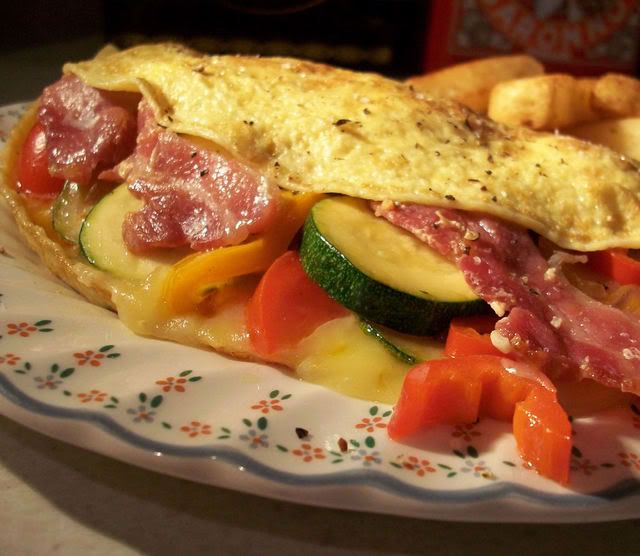 This week's recipe is going to focus on omelets. Omelets are one of my favorite meals because of its high protein content, low carbs, high nutrients, ease of making, and of course they taste great! Omelets are very versatile and can be adaptable to you and your kid's taste buds. I have fond memories of my mom making me omelets before I went to school!
My mom definitely knows what she is talking about when it comes to omelet recipes! So here is my mom in her own words!
Omelets are on the menu today!….that versatile dish that can be fixed for any meal of the day, with whatever happens to be in your fridge or pantry. It can be made as decadent or as calorie frugal as fits your needs. So, let's get started!
Avocado Omelet (2 servings)
3 eggs (use the healthiest you can afford!)
3 egg whites (or substitute)
2 Tbls. water
4 scallions, chopped (or onions)
1/2 c. shredded lo-fat cheese (cheddar, Swiss, soy, feta, etc.)
1/2 avocado, chopped (Calif. Hass is the best)
2 oz. leftover meat, optional (nitrate-free ham or deli meats)
1). Spray an 8″-10″ nonstick frying pan with olive oil and heat on
medium.
2). Whisk the eggs, water, and scallions and pour into hot skillet.
3). Cook for about 3 min. or until the eggs are starting to set on
bottom; using a thin spatula, carefully lift the edges and allow
the uncooked mixture to run underneath.
4). Spread the cheese over half of the omelet. Cover and cook for
2 min. or until just set.
5). Top the cheese side of the omelet with the avocado and any
meat you may be using, then fold the omelet in half.
6). Cover and let sit for several minutes before cutting in half and
serving.
Here are the stats: 313 cals., 29 g. protein, 7 g. carbs., 19 g. fat,
(7 g. sat. fat, 347 mg. chol.), 600 mg. sod., 3 g. fiber
Now, for some variations and tips:
I like to use whatever sauted veggies I might have on hand, like onions, any colored peppers, and zucchini; yesterday I roasted a large panful of chopped up zucchini, sweet potatoes, onions, and garlic….they would work just fine, although the sweet potatoes may be a little interesting :). Or you could saute some diced asparagas and onions and garlic for the filling. Try sprinkling on some toasted seeds or slivered almonds, chopped cashews or pecans….be adventuresome! What's nice about omelets, especially if you are doing a slow weekend morning brunch where everybody gets their custom made breakfast as they stagger out of bed (can you tell we've raised a few teenagers?!), is that you can make them to suit even the pickiest eater of the gang! Some may want the bare bones version, like the full-fat cheese and the loaded bacon–for that liberated soul, you may as well skip the egg whites and use the whole egg, for that matter! By the way, is it hard on anybody else to throw out those wonderful, cage free, omega-rich egg yolks?? For awhile, I tried freezing them after I read about treating your hair with them to make it shiny–guess where they're still sitting?! So, anybody have any better suggestions? 🙂
Your Tex-Mex. eaters will definitely want some hot sauce added to the egg mixture, or some red pepper flakes sprinkled over the veggies…or even some sliced jalapenos. Dustin's Dad is one of these, and I automatically put out the Ortega hot sauce for him.
Looking forward to hearing your favorite omelet ideas! If you have shared recipes on this site in the past, you might want to check back-I noticed there are some more questions for some of you.
Keep eating~healthy!
Dustin's Mom
For more great recipes visit the links below!
30 Healthy Snacks, 21 Healthy Snacks,  Chocolate Chip Cookies,  Chocolate Tofu Pie,  Pureed Vegetables, Roasted Veggies,  Quinoa,  Chicken,  Omelet,  Pizza,  Guacamole,  Hummus,  Carrot Soup