As many of you may know, I tried out for the "Biggest Loser" as a trainer this past weekend. I got in line with another trainer friend, John (the trainer from Chicago that I am doing the fitness videos with), around 7 A.M. at the NBC studios in Chicago. It was quite cold and standing around for 3 hours outside (wearing a spring jacket) wasn't very pleasant! The doors were going to open at 10 A.M. and already there was a line 2 blocks long; this line wasn't filled with trainers, but rather wanna-be contestants. John and I began interacting with them and had a very good time.
It was almost surreal, being surrounded by over 3000 people between 250 lb – 700 lbs. It made me wonder if this was what America was going to look like 100 years from now? This also was a special time for me, as person after person began opening up to us about their struggles, frustrations, and failures. I was so appreciative of the openness and honesty that we were met with while waiting in line. I felt like the barriers and stigma of being fat were no longer there; maybe it was because they all knew I was a trainer (I kinda' stuck out!) and they instantly trusted me based on the trust they have in Bob and Jillian. But for whatever reason, I felt a sense of openness about the topic like never before! I then got the idea to try to get as many names and email addresses as I could, telling them that I have a fat loss blog that I think they would enjoy.


So if you are reading this and were one of the many waiting in line, I have a message for you:

YOU don't have to wait until you hear back from the "Biggest Loser"……you can start your weight loss transformation TODAY! You have failed in the past, not because of lack of knowledge (there is a wealth of great information all around you), but rather because of a lack of self respect towards your body, and lack of support from those around you. When you begin to put yourself first and love your body, you will no longer put the poisons into your body as you have been doing. When you begin to put yourself first and love your body, you will start to move your body in ways that promote health and energy. When you have positive support from those around you who are also living out healthy behaviors, you will be kept accountable and be encouraged when things get challenging.
Read this blog daily, have your friends sign up for this newsletter (put your contact info in the box at the top of this site), and comment on the stories. This community will support you as you change your life!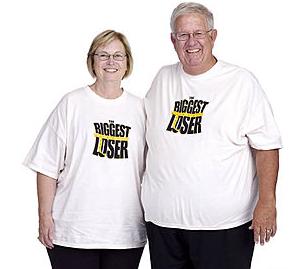 Another great experience at tryouts was meeting Jerry and Estella. For those of you who don't watch the show, Jerry and Estella are the oldest contestants ever to be on the show. On the first episode this season, Jerry passed out and was rushed to the emergency room. I was privileged to spend 15 minutes alone with them and talk about their experiences on the "Biggest Loser" and how their transformations have changed them. Estella told me that her breaking point was when she realized that a family member, who had recently died from obesity, was actually DEAD. For a long time she lived in denial and didn't want to blame it on obesity, or accept the fact that she was going down that same path. That was her wake-up call. Jerry and Estella are some of the nicest people I have ever met and I want to thank them for their time.
Here are a couple of behind-the-scenes secrets from the show that they shared with me:
-3 days a week the cameras are not there.
-On those days they can play music (they can't play music, due to copyright issues, when the cameras are there).
-On days when the cameras are there, they have to have the fans off and doors closed, which makes it super hot.
-Jillian comes to the gym in either her Ferrari or motorcycle.
-On some days when Bob and Jillian can't be there, other trainers are there to help them out.
-Every week they have a conference call with Jillian.
-Jillian is actually nicer than she appears on TV.
Because there are still 3 months left of the show, I don't think I am allowed to tell everyone how much weight Jerry and Estella have lost so far, but let's just say the Jerry has lost well over 100 lbs!
After 5 hours of waiting, the trainers got called in. There were only 15 trainers that tried out! We were brought into a round-table interview with a casting director. He asked us a few simple questions about ourselves and then asked the group a few fitness questions. It became a shouting match and very little was said, but he was able to observe the different personalities in the midst of it all! He gave us his card and told us that the next step is to make a 20 minute video of ourselves and send it to his crew; they will edit it to 2 minutes and give it to the producers. The producers are keeping it a secret about why they are looking for new trainers. Maybe they are looking to add a third trainer, as I didn't get the feeling that Bob and Jillian are going anywhere.
Who knows if anything will ever come of it, but life is all about putting yourself out there and taking chances and not worrying about getting rejected. The more I get rejected, the better, because it means I am being proactive and taking life head on, instead of letting it come to you. I challenge you to do the same with your health!
Keep Moving,
Dustin