Today, my mom is taking on the topic of one of the most frequently asked questions we get… How To Survive The Restaurant. I must admit, I am awful when it comes to eating out. I have a huge appetite which can really get me in trouble. I have a rule that my girlfriend hates, but I try to stick to… only 1 night of eating out per week. (I think she would go every night) This not only saves money, but many calories. In this post my mom gives great practical advice.
Enjoy!

Last week's blogging was phenomenal, not just the volume (with a little administrative incentive!), but the content was so very very useful and at times in-your-face.…who can forget the:
"what you eat today you wear tomorrow"
or
"a minute on the lips, forever on the hips"!!!!
Those little ditties will haunt us at all future sites of temptation. Needless to say, we are still in business and this week we get to share our tricks when eating out-a different scene from the potlucks and grad parties, etc.
Depending on the size of the servings, one of the easiest ways to do it smart at a restaurant is to split a meal with a companion; if that doesn't work out, ask for a take-home container brought with your meal and immediately stash half of it. Our country has become famous for SUPERsizing meals; let's sabotage it all by splitting meals and DOWNsizing ourselves!
I think you can't go wrong choosing some kind of well prepared fish, with certain guidelines, like asking if the salmon is wild caught Alaskan vs. farm raised. I try to always stay away from any farm raised fish, but Angela (Dustin's sister) had a chart from a college class that made some exceptions, so I will not try to be an expert here! If only the breaded version is available, simply peel off the coating. Walleye and tilapia are other good choices, asking for them to bake or broil it for you without any added fats or sauces and simply use some fresh lemon juice. Now what you eat with this healthy entrée is what will make or break this meal, as we all well know! Several sides of your less starchy vegetables, such as steamed asparagus, green beans, broccoli, cauliflower, etc. will be your best choice; however, if it's carb-loaded veggies you are making room for, a small baked potato with some light sour cream or a small serving of sweet potatoes will not bust you; always remember that size can be the killer even more than small "cheats". It goes without saying that the dinner roll is best left covered up in the basket, or removed from the table if you are all of one mind.
Now the salad bar, whether it is included with your above meal or a complete meal, can be where we mindlessly and royally blow it! It can be as dangerous as last week's potlucks, right? Last week I did talk some about a salad bar but more should be said; there is more to beware of than the lethal dressings. First, start with as green as it gets when choosing your lettuce: most include your spring mixes, sometimes spinach, both very good; deep green romaine leaves do well too, and alfalfa sprouts. Obviously, the iceberg lettuce should be last resort. What goes on next is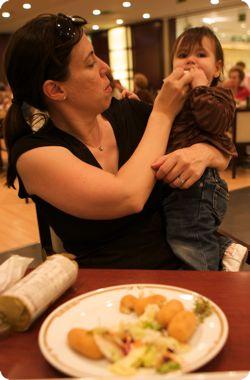 easy-pick your bright colored vegetables, such as all colored peppers, tomatoes, cukes, carrots, beets, peas, etc. Some fresh fruit goes well, but go easy on the higher calorie ones, especially if your salad is not your whole meal. We will not even go into all the other things found in most salad bars, especially the pasta and potato salads. A few olives can be added, keeping the sodium and fat content in mind. Should this be your complete dinner, choose carefully your protein sources, or maybe even settle for some garbanzo beans; the latest word out is that you do not have to get your bean/rice combinations in the same meal to get the complete protein benefit. Now for the dressings: if they have separate bottles of olive oil and vinegar, your dressing choice is simple; a tablespoon of oil is 100 calories, so know how to regulate your shakes! If the selection is limited, or you don't care to spend the time looking it all over, learn to enjoy your salad plain, or just have a little dressing on the side to dip your veggies in. One note here, we all know some good fat is needed, so if your entrée is lean, some olive oil is good; if you're having salmon, skip the oil.
Should we even mention desserts, or just assume you're all too full after that awesome dinner?! Or maybe you have purposely done well and saved some calories for that last treat. Again, this doesn't have to be a total bomb-out…..sometimes one or two items can be agreed on and served with a round of forks and everybody gets a bite-no double dipping and everybody is happy! Don't care to share…. find a small serving of a sorbit, or angel food cake with fresh strawberries; or again ask for a take-home container and divide it right away. If you eat it when you get home, well…….I'm sure another family member would be glad to help you out here.

Does anyone else like Dustin's favorite, "The Flattop" ? -my favorite place too whenever we're in Madison.
Okay, where do you all like to go for good eating and how do you navigate your way??
Keep eating~healthy!
Dustin's Mom~Joy
For more great recipes and nutritional tips, click the links below!
Healthy Potluck Foods,   30 Healthy Snacks, 21 Healthy Snacks,  Chocolate Chip Cookies,  Chocolate Tofu Pie,  Pureed Vegetables, Roasted Veggies,  Quinoa,  Chicken,  Omelet,  Pizza,  Guacamole,  Hummus,  Carrot Soup Campfire Food Protein Bars 7 Day Meal Plan