Like baseball, it seems that pizza is an American past time. Pizza gets a bad wrap when it comes to the nutritional value, and rightfully so. Many of the pizza slices contain anywhere from 300-500 cals per slice, and who can really eat just one slice? Well if you read one of my recent posts from NY, I can't. (I ate 9 slices)
The good news is that there are ways to make pizza not as bad for you, and even make them quite healthy! My mom once again came to the rescue and provided us with a great pizza recipe. I remember growing up we would make pizza once or twice a month on friday nights. It was a great tradition and making the dough and having to kneed it and stretch it out, worked both my muscles and my patience!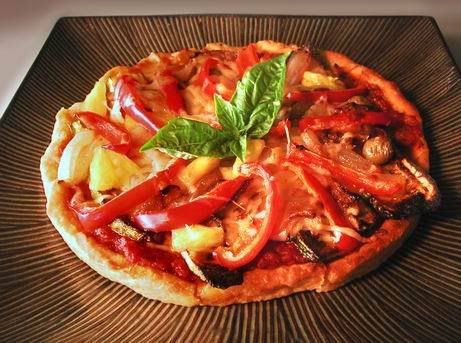 So here is my mom in her own words!
Homemade pizza is in the oven today! Probably most of you busy people will think you don't have time, picturing a time-consuming process, so Dustin suggested that I include both a homemade crust and a boughten one. And I even make the homemade crust the easy way and throw all the ingredients in my breadmaker. The following crust recipe makes two large crusts and when all the kids were home, most got eaten first time around.
2 c. warm water
2 pkg. yeast or 2 t.
1/2 c. veg. oil
4 T. olive oil
3 c. flour
1/2 c. cornmeal
2 t. seasalt
2 1/2 c. additional flour
Preheat oven to 425 degrees.
Sprinkle the yeast on the water and set for 10 min. (for the breadmaker, I just started dumping in the order of the recipe and it seemed to work fine). Add the next 5 ingred. and mix. Add the remaining flour and knead and let rise 2 times. I found that if I was in a hurry, with both the machine and by hand, I'd skip the second rising. Use either 2 very large round pizza pans or your largest cookie sheets-spray with oil and spread dough into pans. I had better luck getting crispy crusts by baking the crust first for about 10 min. before adding the rest.
Next spread the crusts with your favorite spaghetti or pizza sauce, or just plain tomato sauce with some extra seasonings (like Italian herb mix, garlic and onion pwd.). My family always liked the good 'ole pepperoni for the next topping-the turkey variety has less fat…..but Mama here, remember, has a wimpy mouth and would make a corner with no pepperoni and extra veggies :). You could also use Canadian bacon, or cooked ground hamburger. You can easily use a whole pkg. of the pepperoni on the two pizzas if you like it heavy duty. Next, spread a can of well drained pineapple tidbits over the pepperoni. This is where I'd like to sprinkle all kinds of raw veggies, like whatever colored peppers you have, sauted onions, mushrooms, etc., before adding the shredded mozerella and cheddar cheeses…..note, I said I'd LIKE to—the kids wanted theirs without, but as they got older, some would want some of my corner! Looking back, I guess that is one way to get them to want the veggies by letting them try my corner and not forcing it :). Anyway, you can easily use a lb. of cheese but try with less and the lowfat is naturally better.
Bake at 475 degrees for 10-15 min. but watch closely for burned crust or cheese–may want to lower the oven temp.
Note, I like to use some good, whole grain cornmeal, and you can, of course, sub-
stitute some whole wheat flour for the white.
For the boughten crust, lately my favorite has been, again, Trader Joes–can you tell that I like that place?! For only a bit over a $1, you can get a crust big enough for one large pizza pan, stretched thin for a very yummy, crispy crust. They have 3 kinds: a whole wheat, an herb and garlic, and a plain white. They are in a bag, a big lump of dough, and I just let it sit at room temp. before spreading on the pan. I even freeze them, and, if in a hurry, thaw them out in a sinkful of warm water. I prebake this crust too, like the homemade, but you might want to try it without that extra step.
So, I look forward to reading your favorite pizza recipes! Sure has been fun hearing back from you all! Somebody posted a request under the guacamole recipe for a healthy chocolate recipe….I just found one this week that I will post at that site. Check out chocolate recipe.

Keep eating~healthy!
Dustin's Mom
Click links below for more great recipes!
30 Healthy Snacks, 21 Healthy Snacks,  Chocolate Chip Cookies,  Chocolate Tofu Pie,  Pureed Vegetables, Roasted Veggies,  Quinoa,  Chicken,  Omelet,  Pizza,  Guacamole,  Hummus,  Carrot Soup